How to Write a Critical Thinking Essay a Complete Guide 🧠
Vitalii Anufriiev
Critical thinking is one of the crucial skills that everyone needs to have. The definition of critical thinking includes many aspects of perception of the facts and arguments. It allows us to analyze situations critically in the right way. Whatever profession you plan to get into, it is important to have critical thinking skills so that you can understand how to make essential decisions in life. To find out how to write a critical thinking essay, continue reading!
Understanding Critical Thinking Essays: What Are They and Why Are They Important?
A critical thinking essay is an academic essay that allows you to interpret and analyze situations from a certain point of you. You must analyze the topic you are given in detail, using your critical thinking skills. The main objective of this essay is for the student to use their critical thinking skills to convey their message to the audience. Depending on the topic you are given, you have to present your thoughts coherently to your audience. 
When writing a critical thinking essay, you must answer the given question. Not just that, but you also have to give a very clear argument by presenting your point of view. Your essay has to be very clearly written. The audience should understand what you are talking about and where you are getting your point of view from. This is something that is the most important. You should have sufficient information to back that up when you give your point of view. Furthermore, you also have to make sure that it is grammatically correct and has been proofread to see if there are any errors, poor sample of the Critical Thinking Essay you may also be aware of it. 
Some general tips on writing a Critical Essay here :
How to Write a Winning Critical Thinking Essay: Tips and Strategies
Many students find it hard to write a critical thinking essay. This essay allows you to showcase your analytical skills. While it seems complicated, you can break it down into more doable parts and start working on it. Here are a few steps to help you write a great critical thinking essay. 
Step 1- List down the requirements
The first thing you need to do is be very clear about what is required of you. You can only work well on a task when you know what you need to do. Many students fail to write an essay that is up to the mark because they do not fully well understand the requirements. If you feel like you don't have clarity on certain parts, then simply tell your instructor to help you with it. 
Step 2- Understand the source material 
Whatever point of view you have comes from a certain source. Therefore, you must ensure that you first understand the material and how to use it best. Once you know that, you will automatically be able to do much better. 
Step 3- Write notes 
It is always recommended that you make notes of the evidence while at it. You might have so many valid points coming to mind when you write the essay. So make sure you jot them down as they come to mind. When you do that, things will automatically start seeming so much easier. Ideas will flow naturally, and you won't have to worry about missing out on something. Interesting tips you may also find by reading an article on the topic of critical thinking essay vs. critical essay.
Step 4- Identify challenges
When looking at different critical thinking essay topics, identify the primary challenges that you think you will face. Once you know what those are, the approach you will choose will be in line with what you are looking for, eventually allowing you to do a much better job. Only once you acknowledge them can you do a good job of working on them. So you need to make sure that you do a decent job with that. 
Step 5- Find solutions
In the previous step, you found out all about the challenges that you are facing. Now you need to find potential solutions that can help you with that. You are sure to do a great job with a good understanding of the source material. All you need to do is clearly understand where you are headed with things. 
Structuring Your Critical Thinking Essay: A Step-by-Step Outline
Are you still worried about how to write a critical thinking essay? Don't worry. This outline will help you structure your essay in the best way possible, again allowing you to ensure that your thoughts flow to you in the best way possible. A critical Thinking Essay is not too complicated and even can be the same as writing Capstone Project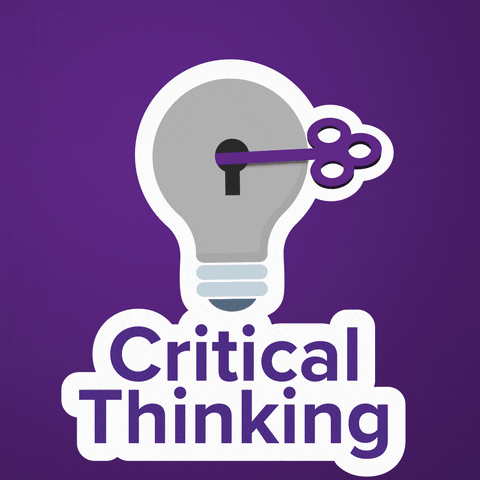 Introduction 
In the introduction, you need to give a brief background, and you also need to give your thesis statement. You can only do this well when you understand the critical thinking essay topics well. Also, reading the article about avoiding plagiarism will be helpful. Writing a critical thinking essay is not as hard as you think. You just need to make sure that you have things planned out properly. In the introduction, you need to discuss the topic briefly and give your stance. This is the part that you need to do well on. This is because your introduction is the one part that hooks the reader, making them want to go further with it. 
Body 
In the body of the essay, you need to give your main point of view, and you also need to make sure that you give sufficient evidence to support what you are saying. Like in an essay about your life, you should prove the main objects that are included.  Remember that this part is very important. All of the main arguments go here. So make sure that you plan it out very well. Present your argument very clearly and then give evidence to support it. Your main argument must be very strong to convince the reader to see things from your point of view and clearly understand what you are trying to say. 
Conclusion 
This is the part where you end your essay. You summarize your key arguments here by explaining your point of view in detail. In short, you need to summarize coherently what you have said by far. When you present your argument here, you allow the readers to draw a logical conclusion from the essay. So this is a very important part too. 
Check the article on how to write a critical precis, that would be really helpful. Following this outline, you can add a lot of weight to your essay and structure it in a way that allows you to score very well on it. 
Now that you know what is a critical thinking essay and how to write a critical thinking essay, too, here are a few useful tips that can help you further. 
When you present your ideas, there should be no ambiguity. The reader should very clearly be able to tell what you are saying. Especially your thesis statement needs to be very clear. 
Make proper use of evidence 
The evidence that you give also needs to be appropriately organized. Once you know exactly what you have to say, you can give your point of view much better. If you are quoting something, you need to reference it as well. 
When using paragraphs, make sure you do it strategically so you know what you are doing and how important it is. Every paragraph needs to bring in a new idea, so you know how to write in a way that allows your writing to flow coherently. 
Remember that the essay you are writing is academic, so you must use the right language when working on it. This says a lot about your knowledge as a student. 
Once done, make sure that you proofread your essay very well. When you do that, it will allow you to find mistakes that you can then instantly correct. When we are writing in a flow, we often ignore things we should ideally be paying attention to. So always make sure to go through everything once when done correctly. 
This way, you will surely be able to write an excellent critical thinking essay! Good luck. 
Vitalii Anufriiev
Vitalii Anufriiev is a CEO and Co-founder at Writing Metier. Sharing EdTech facts and tips will inspire you to learn and do more.
Reader Comments